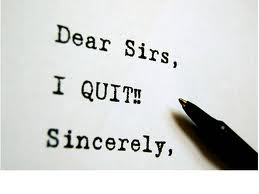 When you terminate a relationship with a company that you have worked for – whether you were with that organization for months or years – it is essential that you exit gracefully. Whether you resigned, or whether you were terminated, you have to remember that the way you handle the situation could ultimately reflect upon you as a professional for many years to come.
It may feel as though leaving a job is parallel to a bad breakup, but it doesn't need to be that way. After all, if you have handled yourself in a respectful manner while employed, the company will understand that you want to pursue other opportunities that are available to you. If you were terminated, they may recognize that you're no longer the best fit for that particular role, but that does not mean that you are viewed as a bad employee overall. You want to leave a job without closing the door on future opportunities to work together (even if it is on a contract or consulting basis), and you always want to ensure that a member of the management team will give you a positive work reference.
Tips for Exiting Your Company Gracefully
Do not debate a counter-offer if you are not planning to remain with the company - if you resign from your role within the company, you will likely receive a counter-offer from the Human Resources department or a member of the management team, according to an article by Forbes. This creates an opportunity to debate office politics and existing issues if financial compensation is not the only factor that would make you consider staying with the company. Avoid taking that bait, even if the party you are submitting your resignation to asks you about your reasons for leaving. While you were still employed with the company, you had the opportunity to discuss any concerns about managerial styles, staff, or office productivity. When you resign, you want the company to view you in a positive manner; you can leave them to deal with their own internal issues, and not have your name associated with potential conflict.
Give notice, and help train your replacement – if you are resigning from the company, always give at least the required 2-weeks notice (unless your contract requires that you provide more). If it's possible to provide them with even more advanced warning, then do so, and simply provide your last available date of work. This will allow the company to find your replacement, and you can help prepare them to take over your role so that the company is not left in a bind. You will be viewed in a much more favorable manner if you kept the best interests of the company in mind subsequent to your resignation.
Voice your willingness to explore a working relationship in the future – leaving a company does not need to be the end of line forever. You can inquire about potential consulting opportunities and express that you might even consider returning as an employee if opportunities in line with your current career goals arise. Do not express interest in either opportunity, however, if you would truly not be interested in working with the company again in the future.
Ensure that the financial aspects are arranged before you leave the company – it is far easier to get all financial aspects of a resignation/termination in order if you do so before you have already walked out the door. Have a look at your contract, and compare that to what the company is offering you with regards to severance pay, overtime pay, and any remaining vacation pay.  Ensure you handle this process in a respectful way, and provide any additional information that the company requires to facilitate the process of issuing you what you are owed. If you feel you are being treated unfairly, there are employment law resources available that can help with this part of the process.